Can't decide? Try them all and save 16% OFF!
For a variation of everyday looks, you can purchase the 'Blinkifly Fam' which comes with The Classic, The Natural and The Darling!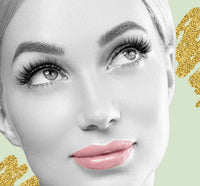 WHY BLINKIFLY?
Here at Blinkifly we want everyone to feel empowered, beautiful and free to express themselves with our DIY lash extensions. We created these lashes for the busy individuals that are on the go but still want to feel put together. With lashes on, most feel they don't even need makeup. It's a new staple! Our lashes last 5 or more days and are applied under your own lashes! Blinkifly is here to serve YOU and we want to be a family who grows together. We hope that you each will love our lashes as much as we do and remember that everything can change in a Blink of an Eye.
Learn a little more about us below as well as some tips and tricks for our lashes!
SHOP NOW
Testimonials
 I have tried every kind of lash out there from strip lashes to lash extensions. These are by far the easiest to apply and 90% of the cost compared to salon lash extensions.

Amanda W
Blinkifly changed my lash game forever. I am a mom of 3 and with my crazy schedule these make my morning routine so easy! I just wake up and go. Plus they last 7 days, sometimes longer!

Raelyn S
I have always been very insecure about my eyelashes until I discovered these easy to apply lashes. I feel so much more confident and will forever be a Blinkifly customer.

Sylvia M